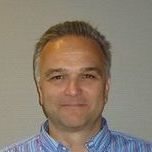 Ray Deldin
Experienced Sales/Sales Management Professional at Altair Engineering
Ray is the Director of Maritme Sales, with a history of producing solid, quantifiable results; experienced in both direct sales and sales management. Well-versed in the areas of operations, product design, and manufacturing.
Sponsored by Altair Engineering
A global leader in computational science and artificial intelligence (AI) that provides software and cloud solutions in simulation, high-performance computing (HPC), data analytics, and AI.
All Sessions by Ray Deldin
Day 3 - Oct 6
10/06/2022 7:00 am
NSRP Research Announcement Project - LiftShip
Finite Element Analysis (FEA) Track - Altair HyperWorks Workshop
Day 2 - Oct 5
10/07/2020 7:00 am
Day 1 - Oct 4
10/04/2022 7:00 am